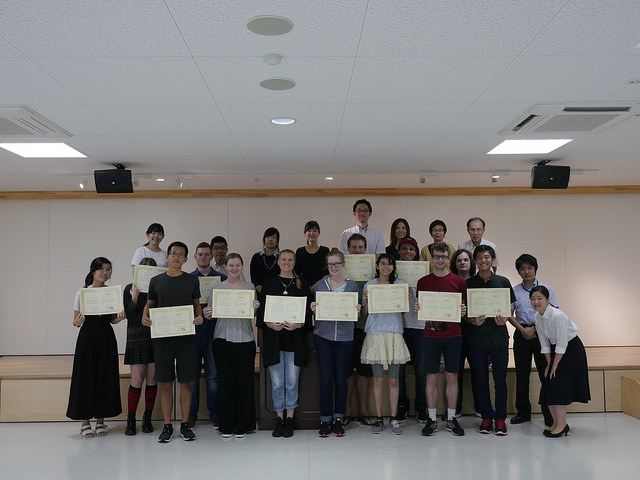 Why Study in Japan?
The world has gotten smaller in a sense that people from different countries are more connected to each other through technology.
It is no wonder that students worldwide opt to study abroad and numbers are increasing by 4% each year among American students alone (according to the 2011 IIE Open Doors Report).
There are many reasons to choose to study abroad. Is Japan the right place for you?
Is studying in a different country right for you?
You can ask yourself simple questions such as:
Would I want to learn about different cultures, places, spaces, and faces?
Can I be away from my comfort zone (family, friends, home, etc.)?
Will my study abroad experience benefit my academic, professional, and personal goals?
If your answer is yes to all the questions, studying away in a different country can open new doors for you.
Studying in a different  country will give you a life changing experience that you can use back at home in all your future endeavors. There are so many study abroad program destinations to choose from, it may be difficult to decide which one would be best for you.
Why consider Japan?
Japan's educational standards are excellent.
The OECD (The Organisation for Economic Co-operation and Development), ranks Japanese high school students number 1 in maths and number 2 in scientific literacy. Japan has the highest number of Nobel Prize winners in Asia and ranks 2nd out of all the countries in the world since the year 2000. Japan also has over 700 universities, 10 of which are ranked in the top 200 worldwide.
Japan has a rich cultural heritage.
Japan has a rich and colorful history as exhibited in the Sannai Maruyama site in Aomori City. The first settlers of Sannai Maruyama are thought to have lived in pit houses sometime around 3,900 BCE.  You can experience first-hand the culture, food, traditions and fascinating history of Japan from rustic countryside living to futuristic technologies.
Japan prides itself in being a safe place.
Japan is ranked as one of the safest countries in the world with an incredibly low crime rate.
A 2014 Organization of Economic Cooperation and Development study ranked Japan as "the safest country in the world." Japan also reports "the second-lowest homicide rate after Iceland and the second-lowest assault rate after Canada."
Greater success in your professional path.
Japan has a job market with a great demand for qualified graduates. Many Japanese companies have expressed their desire to place foreigners from Japanese institutions.
Your study abroad experience will give you an advantage when applying for a job. It's an impressive part of any resume. Employers look for skills that you learned as a student abroad. Studying abroad experiences not only help you learn another language, but also mold you as a person.